(Editor: includes snippets from an original article on Akimia at Medium.com)
AKIMIA Ion-Trans Facial Mask – Turn Concept into Reality
"They laugh and say I'm crazy. I laugh and say they don't see." Perhaps no words highlight the essence of xTrans Creative Inc. better than these. In a time when facial masks are widely written off as simple, cloned products, xTrans Creative challenges such satisfaction with the status quo and goes back to square one in its quest for an utterly unique, utterly special facial mask that is utterly MIT (Made in Taiwan).
xTrans Creative Inc., an innovative startup that won the attention—and patronage—of CymMetrik Group, Taiwan's premier label printing company, possesses an exclusive microcurrent printing technology that is unique in the industry. It also boasts a team comprised entirely of professional engineers, industrial designers, and medical engineers. Seeing itself as a modern-day alchemist, it didn't take long for a brand name to arise. AKIMIA. Full of wonder, full of magic. It's what it'll take to strike down the mighty wall that stands across the cosmetics industry. It's what it'll take to part the Red Sea of millions of facial masks sold in Taiwan each week—and be seen.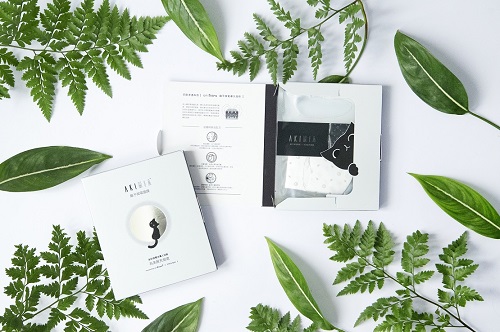 To overcome the skin penetration issues that have held back traditional face masks, the AKIMIA group decided on using printing technology—something not normally associated with facial anything—to create the world's only microcurrent ion transfer facial mask! Historically, it's always been necessary to visit a specially equipped cosmetician or facial spa in order to receive the benefit of ion transfer technology. But now it is possible to do it at home—with just a simple facial mask!
AKIMIA'S unique and patented printing technology transfers essential trace elements onto patterns imbued with micro-energy—and spreads the patterns evenly on each mask. When the facial solution (kept separated until use) contacts and spreads across the mask, positive and negative nodes on the mask connect and trigger microcurrents, which in turn guide the essential ions in the solution deep into the skin.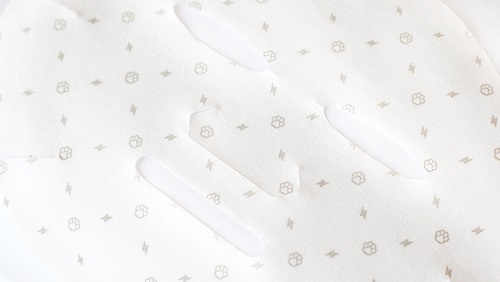 (AKIMIA's custom print pattern)
How hard was it to create a piece of fabric that generates microcurrents without external electricity? The R&D group used nearly 10 kilometers of fabric just to get the print pattern right! They had to test countless combinations of ink-to-bonding-solution ratios and distributions, over and over again. They also had to design and redesign the cuts on the final mask, again and again, to ensure the perfect fit for everyone.
After resolving the fabric issues, the next challenge was to selecting the right facial solution. This was, quite literally, of the essence! Not only is the solution the all-important effective ingredient in any facial mask, it must also trigger microcurrents when exposed to the special fabric. Even the ratio of the solution's various effective ingredients affects how much microcurrent is released. To obtain the most effective, most stable transdermal delivery effect, the R&D team tested hundreds of solution combinations and performed chemical lab tests to confirm their dissociation degrees (i.e. ion concentrations). The end result is a unique solution recipe that provides both a stable, high concentration of ions and effective skin care.
More than anything, it was the endless string of not-quite-there failures during R&D that burned resolve away before even initial order. The team even considered "throwing in the towel" before production. It took the China Beauty Expo—with its hundreds of thousands of attendees and representation from all major international brands—to knock the AKIMIA team into realizing what they have on hand. With half surprise, they saw that even the most funded, most advanced global names need external power sources to generate microcurrents on their facial mask sheets. It was then that they finally saw how incredible and unique their product is.
Filled with newfound confidence, the xTrans Creative team worked with newfound zeal—and the product sold like crazy! From the first batch of sell-out to making retail on the streets of Las Vegas, AKIMIA truly turned concept into reality and is on its way to becoming synonymous with microcurrent facial mask sheets.
CymMetrik Group Lays Out Its Roadmap of Innovations, Centers Everything around Users, and Explores New Markets with New Product Solutions
In recent years, CymMetrik has gone above and beyond just strengthening of its core printing business. It started to create value-added services and ventured into new businesses, approaching new markets with new products and solutions. After having evaluated the business reinvention strategies of various major companies, CymMetrik began to place its own chess pieces, starting with its core printing business, investing in vertical integration companies, and adding some seemingly unrelated, wildly adventurous business undertakings.
"The primary reason is that nowadays it's very hard to go all the way doing just one thing", shares CymMetrik Group's CEO, Templer Wei. These innovation-based excursions, beyond creating outlets for the Group's cache of expertise, also act as news radars for their respective industries.
Thus far, CymMetrik has invested more than a hundred million NT into new business ventures. In addition to xTrans Creative, there's Tmot, who collaborated with Bifido Foods and launched an innovative software that enables people to gift text or video messages simply by scanning the QR code on Bifido's candy packaging. This proved especially popular during the Mother's Day period, when their data traffic grew tenfold. Of course, there's also Croxlink. They develop custom software and are working with Taiwan's Semiconductor Association (SEMI) to create a cloud solution that'll validate semiconductor products for green manufacturing through source tracing and destination tracking. For supply management, the solution also leverages AI and blockchain technology.
Venture One: Tmox https://tmotx.com/

Primary product: QR code cloud services and applications
Found in: 2016
Primary mission: to create tailor-made products for branding; to devise and build all the applications and services that come into play after a QR code scan.

Venture Two: CroxLink https://croxlink.com/

Primary product: Supply chain management expertise
Found in: 2017
Primary mission: Leverage the power of AI and blockchain technology in supply chain management, for tasks such as source tracing and waste tracking.

Venture Three: AKIMIA https://www.akimia.com/

Primary product: Microcurrent facial masks, technology licensing
Found in: 2018
Primary mission: To understand the BtoC retail market and turn printing expertise into products of its own branding or into licensable technology
Product development strategy for every CymMetrik subsidiary company holds the customer at its core. New products under the CymMetrik umbrella span from facial masks to QR code applications to cloud computing. They seem entirely unrelated and don't even targeting similar segments, but the choices were borne out of a larger underlying vision and strategy and made to target specific markets directly.
In the past, CymMetrik relied solely on its printing expertise, developing techniques and adopting technologies to enhance competitivity. Now CymMetrik is going further, creating trends and building value for the market. Going wide and going deep, CymMetrik evolves for the future, consistently.