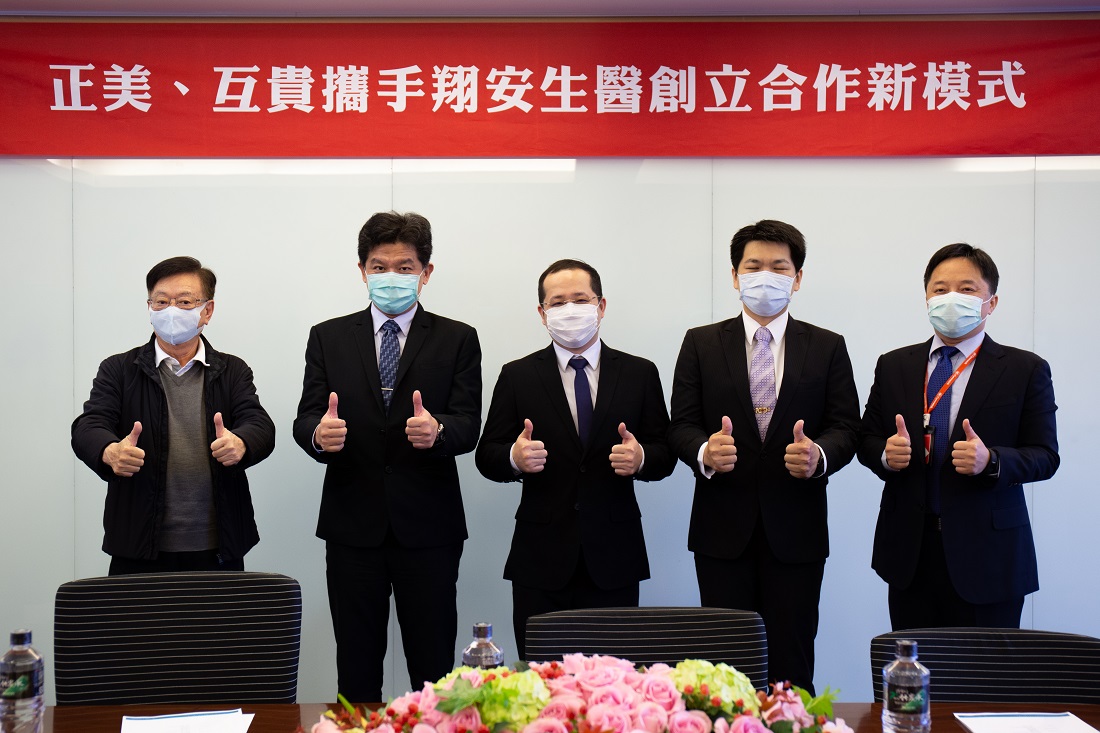 (From Left to Right) HUKUI President Mr. John Hsuan, Cymmetrik CEO Dr. Templer Wei, HUKUI Director Mr. Ben Cheng, AcuSense CEO Mr. Kuan Yu Chen, Cymmetrik President Mr. Calvin Tsai.
As a world leader in applied printing and value-added services, Cymmetrik boasts more a half century of experience in specialized printing, processing and manufacturing. Through expanding its presence in markets like Greater China, Southeast Asia, and North America, it offers passionate support and services to clients around the world. Cymmetrik's full range of applied printing and value-added solutions are highly acclaimed and relied upon by clients world-wide, and it has established deep, firm partnerships over the years with top tier global names in electronics, personal/home consumables, and automotive industries. In recent years, Cymmetrik has not only strengthened its core printing business, but also launched multiple new business ventures and a spectrum of value-added services, through which it has branched into new industries and markets. Early this year, Cymmetrik officially launched its Medical Products Division, which manufactures innovative medical consumables and provides printing solutions for medical electronics and instruments.
Uncompromising Environment Standards and End-to-End Management
Cymmetrik possesses numerous essential manufacturing qualities, including ISO 13485 (Medical Device Quality Management Systems) certification, to ensure consistency and accountability for its medical device production processes. Furthermore, Cymmetrik takes care to implement stringent production standards and environments, including medical-device-only production facilities and equipment management. Cymmetrik can fulfill production needs for a variety of non- or low-intrusive medical consumables and medical devices, including internal functional components and exterior/ornamental elements. Cymmetrik provides comprehensive production solutions for medical products and helps raise standards in health care.
Dependable Solutions for Medical Products of All Grades
Solutions for Medical Electronics
Cymmetrik provides a variety of printing solutions for medical electronic instruments, including home products (blood-glucose meter, sphygmomanometer, etc.), imaging instruments (ultrasound, x-ray machines), and clinical medicine electronics. These solutions work perfectly on a variety of faceplate materials, light-guide plates, UDI (Unique Device Identification) labels, high-temperature-resistant labels, die cutting components, and other related applications.
Solutions for Medical Consumables
We provide comprehensive solutions for medical consumables, including:

Wound treatment consumables, such as non-woven fabrics, Teflon, highly absorbent foams, medical tapes, and so on.
Epidemic physiological signal measurement related consumables, such as disposable ECG electrodes.
In vitro diagnostic device related consumables, including blood glucose test strips and so on.
Value-added functional services in areas such as microcurrent antibacterial treatment, microcurrent transdermal applications, custom functional circuit printing, multi-layer composite-material precision die-cutting, and so on.
Stronger Together, with HUKUI Tech and AcuSense BioMedical
Cymmetrik stands firm in pursuing excellence in the art of printing, for which it never stops researching and innovating. Cymmetrik boasts a world-leading research center, one that regularly makes breakthroughs in material combination, structural design, and manufacturing technology, one that helps Cymmetrik satisfy the world's multitude of needs, achieve supply chain integration capabilities, and provide the most suitable designs in processing. Ultimately, these allow Cymmetrik to provide the most cost-effective solutions, creating value for clients in need.
Through it all, Cymmetrik has stayed true to its mission: to embellish products and enrich life. In this latest project, Cymmetrik enters the medical field and creates new eye-catching products through technical partnership with its cross-industry partners. As Dr. Eric Liu, Senior Director at Cymmetrik's Medical Products Division, states, the Blood Leakage Detection System, an innovative product jointly developed by Cymmetrik, HUKUI Tech and AcuSense BioMedical, should one day reduce greatly the risk of death for kidney dialysis patients. The trio aims to grow the China market together and create a better future for the medical field.
In the past, Cymmetrik focused on developing specialized printing techniques, mounding ever greater barriers-of-entry. Now, Cymmetrik works to further strengthen its capabilities in industrial applications, paying close attention to market innovations and trends. As it fulfils its mission statement, puts people first more than ever, Cymmetrik is set to excel in the medical industry. There it will bring forth the latest in applied printing and evolve unceasingly—straight into the future.
Also read:正美、互貴攜手翔安 加速登陸(China Times, April 9, 2020, Reporter Huang Jiling)